ACCOUNT EXECUTIVE WANTED (PR SALES)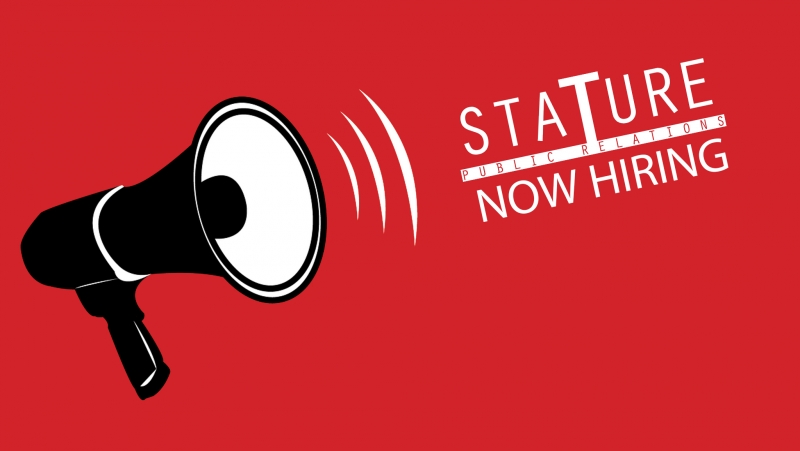 ££ Competitive salary and commission structure aligned with experience
Stature PR, one of the most respected integrated PR companies in the UK, is expanding its sales team, offering driven, experienced media sales professionals the chance to become part of a fast-growing agency environment in London's Clerkenwell.
Partnering with some of the world's biggest brands, including Warner Bros, British Airways and Asda, Stature PR devise, craft and execute creative, attention-grabbing PR campaigns across print, online, TV and radio platforms.
We are looking for ambitious business development professionals to encourage brands to raise awareness of their messages through creative PR, Influencer, social, research and broadcast activity, while also forging, developing and fostering strong relationships with brands and third party PR agencies alike.
The ideal candidate will have a strong grounding in PR content creation and be as confident pitching to clients over the phone as in person.
At Stature PR, we create news, not adverts, so we are on the lookout for someone who is more than just a strong salesperson. We need creative thinkers who can find the hook in a brand's message and uncover the angles that will get the media's attention, whether that's through editorial initiatives, interviews, videos or market research surveys.
Our in-house radio and TV studios offer clients the chance to talk about their product or service to BBC and commercial media on the back of any story we help them formulate, providing a controlled environment for creativity to flourish.
Working within a dedicated media sales team, you will be selling directly to marketing, brand and PR departments with major UK consumer brands and work collaboratively with the rest of the group devise campaigns strategies and push the company forward.
If this sounds like the ideal next step in your professional development, then we want to hear from you.
The Role:
Approaching and meeting with brands and PR Agencies to sell-in print, online and broadcast PR ideas and campaigns, developing and maintaining strong relationships.
Generate potential leads via, email, phone, LinkedIn.
Managing clients, selling campaign ideas to UK consumer/finance/technology brands within marketing, PR and brand specialist departments.
Generating news angles that sell a story, event, product or service, to media outlets.
Networking with direct clients and PR agencies.
Championing our partnered brands.
Working collaboratively with the rest of the sales and creative teams to brainstorm ideas and generate strategy ideas.
Essential Skills:
Ability to work independently and build strong client relationship skills.
Proven track record of generating leads/opportunities/sales
Creativity and ability to work collaboratively with other members of the team across the company.
A positive, personable demeanour which will have clients coming back time and time again.
Sales-focused, results-driven and self-motivated outlook.
A professional, proactive and positive attitude to selling.
Talented communication skills, capable of negotiating over the phone and face-to- face.
Ability to work to tight deadlines with excellent time-management skills
Ability to sell a story or idea which has been designed and created by you
To take advantage of this exciting opportunity, please send your CV to [email protected]
Back