The House & Garden Festival Launches at Olympia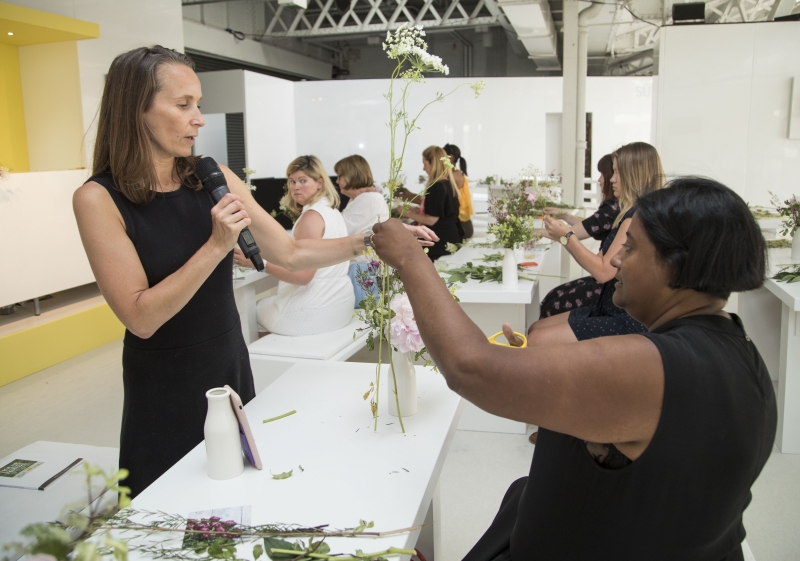 The first ever House & Garden Festival at Olympia attracted a wide range of people who flocked to see the three leading lifestyle events converge for the first time. The Spirit of Summer Fair, The HOUSE Fair and GROW London merged to create the ultimate celebration of summer and stylish living. The four day Festival offered visitors everything from boutique interior designers to outdoor sculptures created to transform your outside space. Foodies were treated to an array of exquisite treats at the Great Taste Market whilst the Moismann's pop up restaurant and Louis Roderer Champagne Bars offered the perfect refreshments for eager shoppers.
The event kicked off with an exclusive press workshop with superstar florist Philippa Craddock who led influencers, lifestyle and national press in an interactive workshop – creating beautiful British table blooms.
Visitors were greeted by the Seven Decades of Style exhibition which explored fabric and wallpaper design from the last 70 years in honour of House & Gardens 70th Anniversary. Alongside style rooms created by influencers 2LG Studio, The Pink House and Interior Style Hunter. All went down a storm and created a real buzz on social channels.
Over at GROW Richard Miers' Nefelibata Garden installation sponsored by Quintessentially Travel was a real show stopper. It depicted different parts of the world as giant 'globes' of live flowers that guests could interact with and travel through. The installation was featured throughout a range of key media outlets including TALKradio and London Live. The section was also home to the Expert Gardening Theatre where a great line up of leading industry professionals, including the prolific Matthew Wilson, gave talks on how to make the most of garden space which was a real highlight.
At the Spirit of Summer the summer living workshops went down a treat. Guests enjoyed a masterclass in champagne tasting as well as a culinary guide on summer dishes courtesy of The Ritz Restaurant, Executive Chef, John Williams MBE, who prepared two dishes with the best ingredients the English summer season has to offer. Bring on next year!
Back